A farewell interview with Victoria van Krieken
By Anne-Rose Mater-Bantzinger
---
"Keep thinking big"
After seven years, Victoria van Krieken (36) is leaving the Liberation Route Europe (LRE) foundation, where she headed the organisation and over the past year sat as chair of the International Supervisory Board.
What did you want to achieve with Liberation Route Europe?
A lot! However, I think most of all to convey stories about the final phase of the Second World War to a large audience, and keep these stories alive. It is crucial that we continue to share the many different - national and personal - perspectives of this time. Furthermore, I aimed to create a lasting, international organisation with a strong partner network.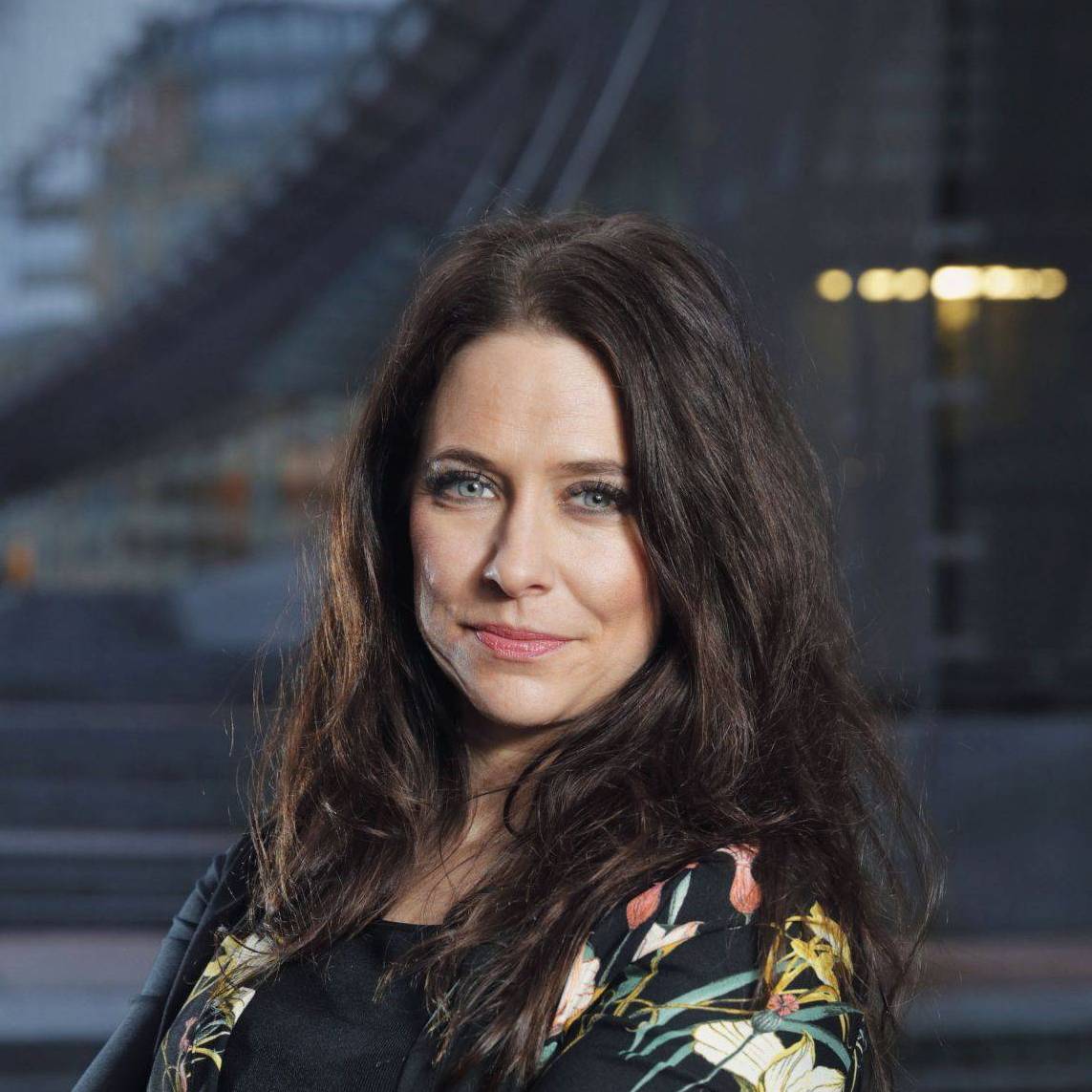 "I put everything I had to offer professionally into our foundation, and I have full confidence in my successor Rémi Praud."
Did you succeed?
Of course not everything turns out well in seven years, but luckily a lot did! We were able to bring many parties together; we achieved concrete results and reached many people, always taking into account what makes a certain partner unique. We present the World War II heritage of our partners – such as museums and historical sites – in appealing ways. Thanks to this, we have achieved added value for (potential) visitors and have created a strong network that includes many organisations in the Netherlands and abroad.
International launch of Liberation Route Europe in Normandy at 70th anniversary of D-Day, 6th June 2014.
Your mother is Polish. Was the Second World War a sensitive topic on the Polish side of the family?
Not the Second World War per se, but in Poland in general its aftermath and consequences are more sensitive topics. In Poland, 1945 is not really perceived as the year of liberation, but as the start of a new occupation. This perspective is radically different compared to Western Europe.
How did your mother come to live in the Netherlands?
My father and mother were pen pals. He went to visit her in Poland, and they ended up marrying there. My mother moved to the Netherlands in 1980. She raised my sister and me bilingually. I consider that to be a gift! I became interested in Central Europe because of her. When I was studying European Studies, my specialisations were, among others, Slavic languages and Central and Eastern Europe. Although my involvement with Poland is less strong than during my study, I will always feel strongly connected to my Polish roots.
Since the start of its international development, Polish partners became part of the Liberation Route Europe network. Were you committed to this?
I did push for this, yes, together with LRE founder Jurriaan de Mol. To me, it has been important from the start that the LRE covers more than just the Western European perspective and stories. After all, there are also important historical storylines to tell from Eastern and Southern Europe. They are partially mentioned in the Travel the Liberation Route Europe Rough Guide that was published earlier this year. However, I hope in the future more countries and perspectives can and will be added!
Right from the start, Jurriaan de Mol had this vision for LRE to become a kind of Santiago de Compostela trail for freedom when it comes to renown, meaning and sustainability. I share that vision!
What has made the most lasting impression on you?
Personal eyewitness accounts have enriched me tremendously, and the many special places I was allowed to visit. So too did the cooperation with national and international partners along the route: I met so many inspiring people who are all motivated to dedicate themselves to this important topic. From historians to politicians, from museum directors to guides.
Meeting with a veteran at the Canadian Liberation Festival, Apeldoorn 2015.
Martin Schulz, former President of the European Parliament and now Member of the German Parliament, is patron of the LRE. How important is a Patron for the organization?
I am very grateful to Martin Schulz. He is committed to our aims. Not just officially on paper, but he actually made so many efforts over the past years. I truly respect him both professionally and personally. In 2020, the cooperation in Germany and the plans we have with our partners there look very promising! That would certainly not have been possible without Martin Schulz. The vfonds (National Fund for Peace, Freedom and Veteran care) is also important for the LRE. They have been our strategic partner since 2013. Without them, we could not have built the team and organisation as we did. But there are many more people here and abroad who have played a key role in the establishment and development of the LRE. These are all people willing to dedicate themselves to something they believe in. The LRE is a collective effort!
With Martin Schulz and Mark Rutte at the opening of the exhibition 'Routes of Liberation' in the European Parliament, Brussels 2014.
You must be proud that world-renowned architect Daniel Libeskind is designing the markers for the LRE international long distance hiking trail.
Absolutely. I met his wife, Nina Libeskind, in New York in 2017. I had the opportunity to tell her, in just ten minutes, who we are and what we stand for, what our ambitions are. I told her about the origins of the LRE, that we want to keep the Second World War alive by connecting countries, historical places and personal stories, and that we want to leave a legacy for the future when there will no longer be any eyewitnesses among us. Daniel and Nina Libeskind were captivated by our goals. Together, the idea took shape that he would design markers for our long-distance walking trail. Our plan is to officially open this trail with its markers called 'Vectors of Memory' in May 2020 in Berlin. It is my hope that on that occasion, not only our partners and associates will walk with us, but also Dutch Prime Minister Mark Rutte and other heads of government.
A lot has been achieved and launched over the past seven years. How do you look back?
My work for the LRE was very wide-ranging and diverse. There is no other place or organisation where I could have done and learned so much in this relatively short period of time. A time with so many highlights and challenges. We have approached this complex subject in innovative ways. The combination of tourism, marketing and the history of the Second World War requires a balance that must be carefully managed. Through tourism and marketing, we can reach and inspire many people. On the other hand, I think that the LRE constitutes a meaningful addition to the existing tourism offer of various regions and tour operators. Looking back on the past seven years, and seeing what has been achieved, I feel a great sense of accomplishment and most of all pride for the LRE team!
Liberation Route Europe 2019 team kickoff in Oisterwijk.
Why are you leaving the LRE now, and not after May 2020 when 75 years after WWII will be commemorated?
I want my successor, Rémi Praud, to have a huge highlight to start his tenure with. My years were great, with a lot of wonderful and honourable moments. Intensive and varied, and sometimes stressful. The work of the LRE is always changing, developing, and I feel that the LRE management should reflect this development.
Rémi and Victoria: management meeting during a visit to the LREF partners in Poland, Museum of the Second World War in Gdansk, 2016.
What awaits you after you leave Liberation Route Europe?
I don't know. (laughs) Really, I don't! I don't want to think about the future too much, not while I'm still doing this unique job. I will figure out what I want to do next in the new year. I got married last summer and I look forward to taking some time for my private life. But I'm not going to sit still for too long. Two months, perhaps. Luckily I am not completely gone yet. At least for the first half of 2020 I will remain chair of the international supervisory board.
Do you have any advice for your successor?
Rémi and I worked together within the LRE for many years. He knows perfectly what needs to be done and what challenges awaits him. Key is the international cooperation between our dedicated team and all our partners. We work from the heart. The LRE is nothing without people who show this passion in their work. But Rémi knows all these things. He himself is a good example of all these qualities. And finally I would say… keep thinking big!